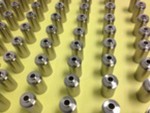 Products
The common products we routinely produce are assemblies of ceramic to metal seals for virtually all the applications including medical, aerospace/military and oil/gas field applications. There are three main categories we deal with every day:

Structural seals or joints of ceramic and metal combinations.
Electrical feedthroughs
Optical window assemblies (also called electro-optical or opto-electronic components)
The vast majority have hermetic seal requirements. However, each part is accompanied by unique service conditions such as vacuum, specific chemical environments, pressure differentials, thermal excursions, thermal management and cryogenic environments.
We offer turnkey manufacturing as well as process services of customer furnished materials and can assist with any or all portions of the design process. We have a multitude of experiences working with large corporations, start-ups, researchers, and individual entrepreneurs.
IJ Research has tremendous sensitivity to our commitments. We virtually do not miss scheduled delivery due dates and promised quantities. Our success is based on scheduled planning and setup. Customers enjoy regularly scheduled deliveries year after year and lot after lot.