Background
IJ Research maintains an excellent reputation as a supplier for both medical feed through and medical opto-electronic optical window assemblies for our quality, delivery and pricing. In many ways, medical feedthroughs (biocompatible feedthroughs, medical device electronic packages) are not too different than feedthroughs for any other application. The major difference is the biocompatibility requirement.

Typical Medical Devices
Typical feedthroughs or headers for FDA Classification II and III devices is a multiple pin arrangement composed of a Ti or Ti alloy flange, multiple Pt or Pt/Ir conductor lead pins, and ceramic insulators. The most popular optical window assembly is composed of an optical clarity sapphire window in Ti or Ti alloy flange. IJ Research is very experienced with typical biocompatible materials such as Ti, Pt, Pt/Ir, Nb and their alloys, alumina, stabilized zirconia, or other ceramics and Au braze. IJ Research's Production Department checks the biocompatibility of each assembly periodically using modern instrumentation.

R&D to Prototype to Full Production
We can be your source for either a new or existing product. If there are any challenging issues on new products, we will do our best to offer you a solution during the qualification period and scale up for your production requirement. Our manufacturing experience comes from extensive prototyping, developing and on-going repeating manufacturing. As a result, our reputation on the reliability and dependability is more than excellent with a well documented record of extremely low customer complaints, no missed the delivery dates, and exact quantity deliveries.

Medical Device Experience
IJ Research is ready to answer any of your questions: concerns about metallurgical aspects of Ti/Au phases, vapor pressure, analytical ability of seal interface, failure analysis, QA system, delivery consistency, price compatibility, etc. While we sometimes manufacture assemblies as shown on the customer print, we often suggest modifying some features on the prints for better quality and cost effectiveness on volume manufacturing. Almost all of the products IJ Research carries have been modified per our recommendation. Many of the changes went through new medical regulatory approval processes.
We are a qualified vendor/supplier for various applications:
cochlear implants
pacemakers
medical sensors and detectors
medical optical assemblies
endoscope/surgical imaging systems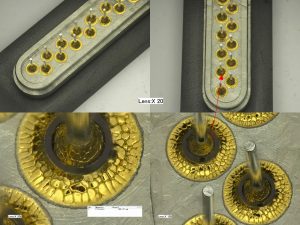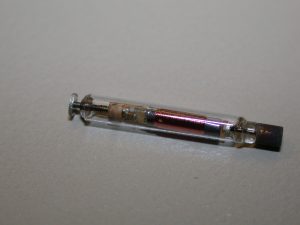 Please click for a PDF copy of the brochure, Medical Feed Through.