IJ Research Turnkey Manufacturing
IJ Research Turnkey Manufacturing
IJ Research's multiple technology facility setup is for manufacturing your custom designed parts per your prints. IJ Research setup is also for your initial help on design, material selections and prototyping including evaluation and testing.
In-house manufacturing capability includes ISO driven QA system, ceramic fabrication, laser welding, electrolytic plating, heat treatment, passivation, ceramic to metal seals and all other relevant processing for bonding, sealing and joining, structural analysis, element analysis (SEM), various systems for ceramic metallization, lapping and polishing optical windows, A/R coating, brazing and flux-less soldering, etc.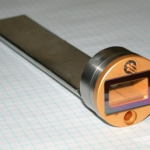 Note: This component is a good example of the utilization of IJ Research's multiple technologies and capabilities. It has metallization, optical coating, soldering, brazing, ceramic to metal sealing and welding.