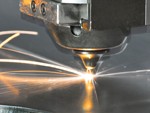 Capability
Our ceramic fabrication covers both molding and grinding. Molding includes extrusion, slip casting, isostatic pressing, hydraulic pressing, green body machining and sintering. Grinding includes precision diamond machining, lapping and polishing.
We use extrusion for small tubes and slip casting for larger tubes. Green body machining is common when the parts are intricate and complex often with some post machining.
We use all the ceramics including the most popular Alumina.
We produce all popular ceramic shapes: boats, crucibles, plated, rods, tubing, rings, balls, bolts and nuts, etc.

Click PDF file for more details on the
Ceramic Fabrication.